Overview
Quality Products
As a leading US manufacturer Bray International understands the demands required in pulp & paper mills today; long runs, uninterrupted service and production that goes on as scheduled without the need of costly valve failures that could shut downthe process. That is exactly what you get from Bray, soundly engineered valves with proven performance and reliability.
The pulp and paper processes are categorized as hazardous, corrosive, high pressure or abrasive which include those using:
Chlorine Dioxide

Sulfur Dioxide

Gaseous or Liquid Chlorine
Concentrated Hydrogen Peroxide

Other Industry Chemicals
Valves suited for the purpose
Resilient Seated Butterfly Valves
With many states in long-term droughts and experiencing depleted aquifers, wastewater reuse is becoming more and more a viable option for water supply. This leaves growth potential for manufacturers of valve products suited for the purpose. Bray resilient-seated valves are well suited, ideal for:
In applications up to 250 psi for valves up to 12 inches and 150 psi for 14 inch and larger.
Temperatures up to 250 degrees F and pipeline velocities at or below 30 feet per second.
Bidirectional & Unidirectional
Knife Gate valves
Valves for sludged (RAS, soft, viscous), slurries (abrasive, erosive, corrosive), powders (fine, coarse, chunks), high temperature (1000 deg C+)
Bleach stock line

Brown stock washers & pump isolation

Green liquor
Blow tank outlet

Evaporators

Bleach towers
Triple offset butterfly valves
Tri Lok
Compared to gate, globe or ball valves of the same size and pressure class, Tri Lok provides space and weight savings while minimizing installation and maintenance costs.
Tri Lok is a premier isolation valve, well suited for operation in light vacuum to high-pressure applications. The standard, non-rubbing, metal-to-metal sealing system is inherently fire-safe. Applications requiring absolute zero leakage are ideally suited for triple offset technology.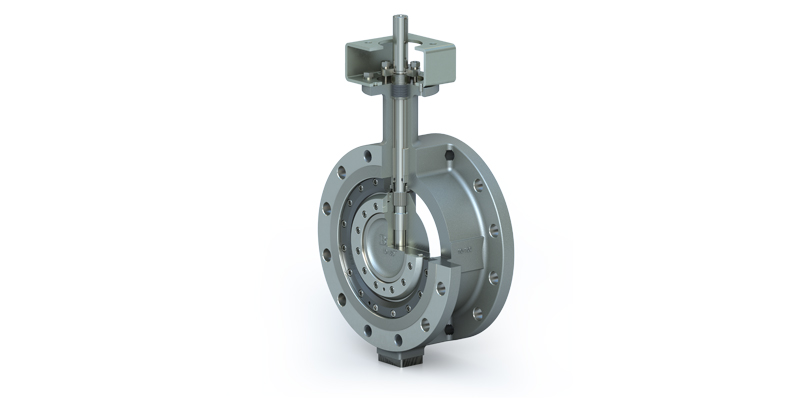 Engineering excellence and precision
Actuators and Accessories
Engineering excellence and precision manufacturing have produced a modular product line with reduced overall size requirements and economic savings. In addition, all Bray Accessories are fully modular and directly mount to the actuator – providing flexibility and efficiency at reduced cost.
Pneumatic actuators
Bray's Series 92/93
Line of high performance and high quality pneumatic actuators combines styling, strength, compactness and simplicity of design to produce the best rotary actuator in the market today.
Spring Return: Bray's Series 93 spring return models employ a unique cartridge system for easy conversion from direct acting to spring return actuation.
Electric actuators
Series 70
Bray Controls years of proven success in electric actuation, combined with innovative engineering, has produced the Series 70. The Series 70 features on-off or modulating control. This electric actuator for rotary valves delivers highly reliable service.
Stainless steel mechanical travel stops.

Infinitely adjustable travel limit cams.
Optional torque limiting switch system.

Servo operation can be configured to accept standard input signals.
Certified & Trusted
By thousands of companies worldwide
Complete valve and actuator packages tailored to your system requirements are available from Bray thus giving the mill a single source of responsibility for proper valve/actuator operation. Each package is fully performance tested before shipment to ensure quick, trouble free installation, startup and operation.
Total customer satisfaction has been the goal from the start and Bray continues to focus on exceeding rather then merely meeting the needs of our customers. This kind of drive and dedication is what has made Bray International one of the most innovative valve manufacturers in the world.

Certifications
Our performance tested products are in compliance with a variety of global certifications and approvals, including Lloyd's Register, UL, ABS and more.
Request a Quote