Water & Wastewater
Bray is the leading butterfly valve and actuator manufacturer in water filtration.
Overview
Quality Products
Bray International is the world's premier manufacturer of valve and actuation products for the water/wastewater industry. In most regions of the world, water is a scarce resource and Bray is a leading solution provider of products on a wide variety of treatment systems and installations.
Butterfly, ball, check, knife gate, actuators and control products manufactured by Bray meet the highest industry standards in water and wastewater applications around the globe:

Ground Water
Surface Water
Brackish/Sea Water Desalination
Desalination
Water Re-Use
Microfiltration
Ultrafiltration
Reverse Osmosis
Biological Treatment
Disinfection
Valves suited for the purpose
Resilient Seated Butterfly Valves
With many states in long-term droughts and experiencing depleted aquifers, wastewater reuse is becoming more and more a viable option for water supply. This leaves growth potential for manufacturers of valve products suited for the purpose. Bray resilient-seated valves are well suited, ideal for:
In applications up to 250 psi for valves up to 12 inches and 150 psi for 14 inch and larger.
Temperatures up to 250 degrees F and pipeline velocities at or below 30 feet per second.
High performance valves
Bray/McCannalok
Higher temperatures and water velocities may be achieved through the use of the Bray/McCannalok series high performance valves.
Pressure ratings comply with ASME Class 150, 300 and 600.

Temperatures up to 450 degrees F.
Featuring superior materials for erosive and corrosive services including water velocities higher than 30 feet per second.
The strength of Bray valves
Zero Leakage
Part of the strength of Bray valves is that they offer three disc-to-stem connections; Double 'D', Splined, and Double Key. These internal non-wetted connections eliminate typically exposed external disc-to-stem connections such as screws or taper pins. Disassembly of Bray's internal connection is performed by simply pulling the stem out of the disc. Bray's precision machining of the disc and the stem connection minimizes hysteresis and produces maximum strength engagements. All stem designs incorporate a blow-out proof feature.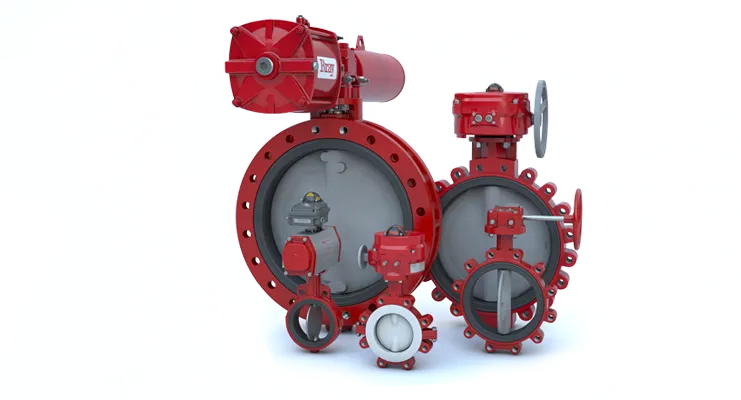 Engineering excellence and precision
Actuators and Accessories
Engineering excellence and precision manufacturing have produced a modular product line with reduced overall size requirements and economic savings. In addition, all Bray Accessories are fully modular and directly mount to the actuator – providing flexibility and efficiency at reduced cost.
Pneumatic actuators
Series 98
The Series 98 actuators were designed primarily for pneumatic operation to a maximum pressure of 150 psi (10.3 Bar) and for temperature ranges of -50°F (-46°C) to 300°F (+149°C).
Compact design offers a high torque to weight ratio

Modular Design offers easy configuration in the field

Module alignment ensured by precision machined centering rings

Premium epoxy/polyurethane coating as standard
Torque Output ranging from 2,744 to 885,100 in-lb (310 to 100,000 Nm)

Spring End Torque ranging from 2,744 to 445,261 in-lb (310 to 50,306 Nm)
Electric actuators
Series 70
Bray Controls years of proven success in electric actuation, combined with innovative engineering, has produced the Series 70. The Series 70 features on-off or modulating control. This electric actuator for rotary valves delivers highly reliable service.
Stainless steel mechanical travel stops.

Infinitely adjustable travel limit cams.
Optional torque limiting switch system.

Servo operation can be configured to accept standard input signals.
Certified & Trusted
By thousands of companies worldwide
Bray houses a state of the art Class 1000 clean room for production, assembly, cleaning, and bagging of ultra-clean valves for use in high purity applications. This facility meets the US Federal Standard 209E for Class 1000 airborne particles. Bray valves for ultra-pure service include a fully lined body and disc which isolates all other valve parts from the media, and are available with UHMWPE trim. Extensive field research and engineering have developed state-of-the-art valves which provide:
Excellent shut off protection (bubble-tight shut off)

And high Cv values.
In addition, Flow-Tek, one of Bray's many specialty divisions, produces a full line of ball valves for ultrapure water service which can be tested, cleaned and certified. Flow‐Tek's technologically advanced ball valve design is the product of a highly evolved research and development program.
Bray is superior to others in part because of its fully diverse line of products used in every facet of water filtration and wastewater treatment. The breadth of products, quality control, and all Bray-owned facilities make Bray products exceed all competitors. With a focus on maintaining consistency and reliability, suppliers of components, materials, and services are included in the design process.
Bray Resilient Seated Butterfly Valves are designed, manufactured and tested to meet or exceed AWWA C504, Section 5.0 performance criteria.

Certifications
Our performance tested products are in compliance with a variety of global certifications and approvals, including Lloyd's Register, UL, ABS and more.
Request a Quote