Switch Box
Series 5A Resin
CE, SIL 3 capable
Optional: ATEX, IECEx
Mechanical: SPDT, SPDT (Low Power)
Proximity: PNP, NPN, 140V 2-Wire, 250V 2-Wire, Reed, NAMUR Intrinsically Safe
Specifications
Switch Box - Series 5A Resin
Certifications
CE, SIL 3 capable
Optional: ATEX, IECEx
Communication Protocols
None
Enclosure Ratings
IP66/67/68, NEMA 4/4x
Visual Display
High Visibility Indicator
Beacon Color Options: Red/Yellow (Standard), Red/Green, Black/Yellow, Red/Green Inverse
Switch Options
Mechanical: SPDT, SPDT (Low Power)
Proximity: PNP, NPN, 140V 2-Wire, 250V 2-Wire, Reed, NAMUR Intrinsically Safe
Mounting
VDI/VDE 3845 Compliant (NAMUR)
Temperature Range
-13°F to 149°F (-25°C to 65°C)
Conduit Ports
2x ½" NPT or 2x M20
Base Material
Fiberglass reinforced PBT
Cover and Indicator Dome
Polycarbonate
Features & Benefits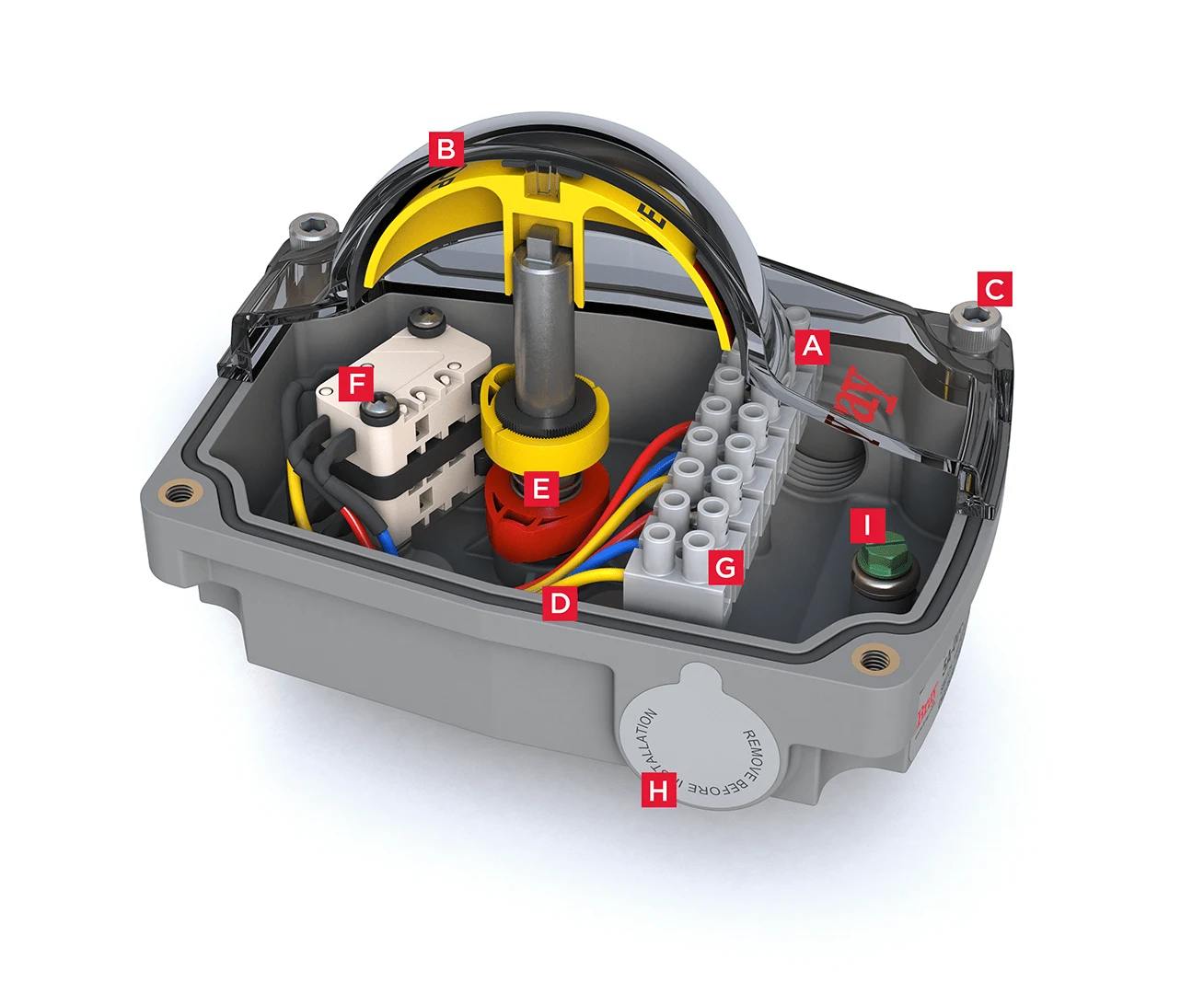 A. Enclosure

The compact low profile weatherproof VSM is NEMA Type 4, 4x and IP66/67/68. A one-piece polycarbonate cover and resin base for exceptional corrosion, wear, impact and ultraviolet resistance.

B. High Visibility Position Indicator

Visual open and closed indication is provided with an impact resistant dome style indicator. Inverting the open and closed visual output is easily done by rotating the internal shade 90 degrees.


C. Captive Cover Bolts

The cover is attached to the base by captive stainless steel bolts placed outside the sealing area.

D. O-Ring Seal for Watertight Enclosure

The O-ring seal between the cover and base provides a weatherproof seal preventing internal corrosion.

E. Sensor Cams

Splined cam design allows for easy and accurate setting of switch activation without the use of tools.

F. Limit Switches

Two switches standard. Optional switch types to meet connectivity requirements.

G. Terminals

Clearly marked terminal blocks are angled towards the user to ensure easy access.

H. Conduit Entries

Conduit entries available in either imperial or metric threads.

I. Grounding

Green color-coded, easy-access grounding bolt.