Resilient Seated Butterfly Valve
Series 31U
NPS 2 to 12 / DN 50 to 300
0°F to 212°F (-18°C to 100°C)
Maximum Allowable Operating Pressure
Specifications
Resilient Seated Butterfly Valve - Series 31U
Size Range
NPS 2 to 12 / DN 50 to 300
Body Materials
Ductile Iron, Carbon Steel, Nickel Aluminum Bronze
Temperature Range
0°F to 212°F (-18°C to 100°C)
Stem Materials
Stainless Steel, 17-4PH Stainless Steel, Monel K500
Maximum Allowable Operating Pressure
285 psi (20 Bar)
Seat Materials
Bonded BUNA-N
Shutoff Rating
Bidirectional Bubble-tight
Disc Materials
316 Stainless Steel, Monel K500, Nickel Aluminum Bronze
Flange Drilling
ASME Class 150, EN 1092 PN 10, 16, 25
Testing Standard
API 598, EN 12266-1
Certifications
ABS, ATEX, CRN, DNV, D.O.T. 54, NSF 61/372, PED, PE(S)R
Face to Face
API 609 Category A, EN 558 Series 20
Applications
High Pressure Industrial and Marine Dead-End service,
On-Shore and Off-Shore Fire Protection
Features & Benefits
Bray's Series 31U resilient seated butterfly valve is specifically designed for onshore and offshore fire protection where the applicable certification is D.O.T. 54 (UK Department of Trade). The series 31U is designed to withstand high line velocities and pressure.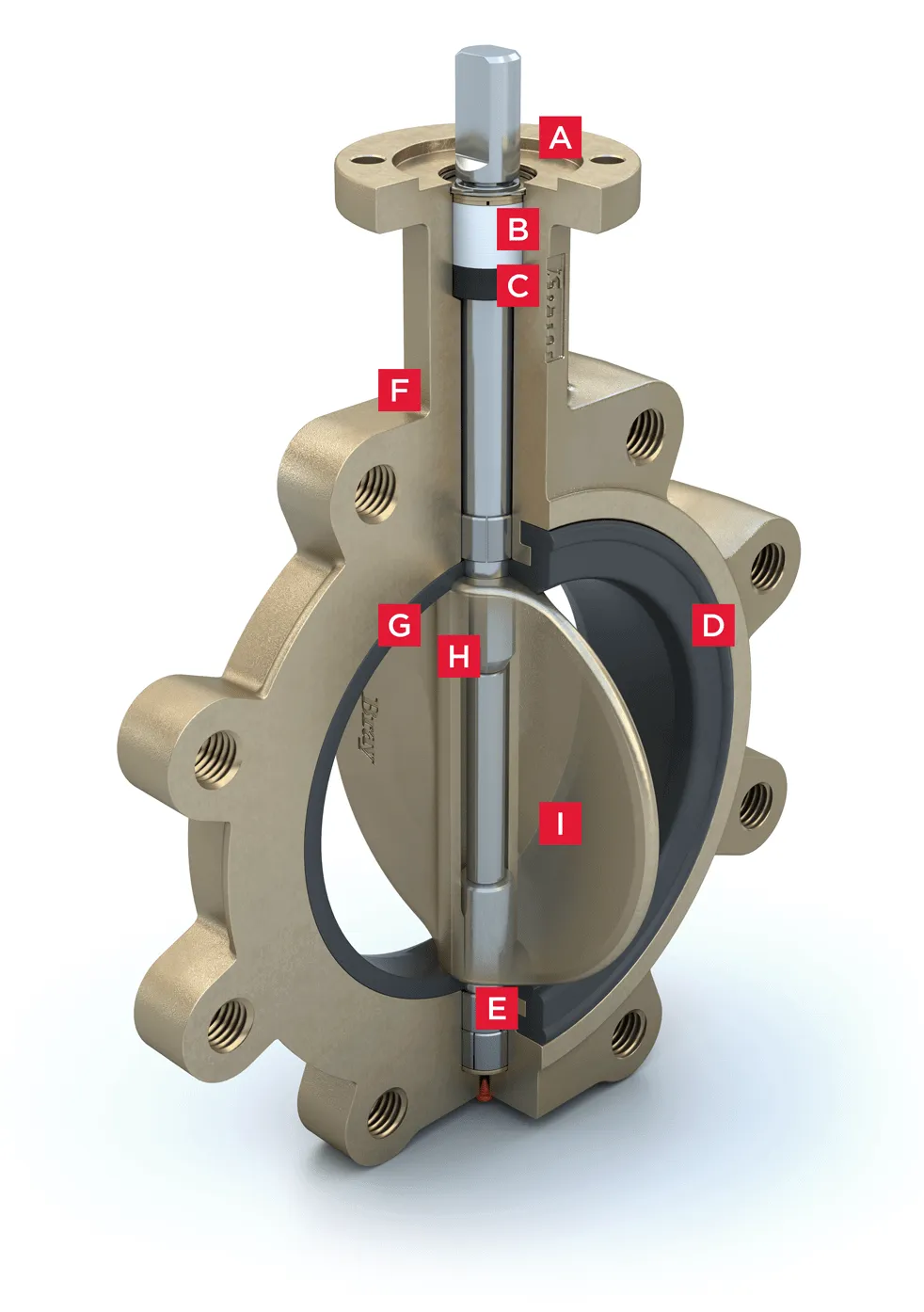 A. Modular Design

All Bray manual gear operators, electric and pneumatic actuators mount directly to the S31U, with no brackets required.

B. Stem Bushing

Non-corrosive heavy duty acetal bushing absorbs actuator side thrust.

C. Stem Seal

Patented stem retaining ring and C-rings prevent unintentional removal of the stem during field service.

D. Seat Design

Bray's bonded tongue and groove resilient seat design offers lower torque than many valves on the market today and provides complete isolation of flowing media from all valve components (excluding the disc) by a totally encasing design. The seat features a molded tangential O-ring eliminating any need for flange gaskets.

E. Primary & Secondary Seals

These seals prevent line media from coming in contact with the stem or body. Primary Seal is achieved by an interference fit of the molded seat flat with the disc hub. Secondary Seal is created because the stem diameter is greater than the diameter of the seat stem hole.

F. Neck

Extended neck length allows for piping insulation and is easily accessible for mounting operators.

G. Body

One piece lugged style flange configuration, with a choice of Polyester Coated Ductile Iron/Carbon Steel or uncoated Nickel Aluminum Bronze. All bodies can be drilled to be compatible with ASME 125/150, PN10/16 or other international flange standards.

H. Stem

High Strength upper and lower stem incorporate a close tolerance double 'D' disc drive connection. This eliminates stem retention components being exposed to the line media and allows for easy disassembly for maintenance purposes, unlike disc screws and taper pins.

I. Disc

Casting is spherically machined and hand polished to provide bubble-tight shutoff with minimum torque and an extended seat life.